John Krasinski shares much-needed good news through new YouTube channel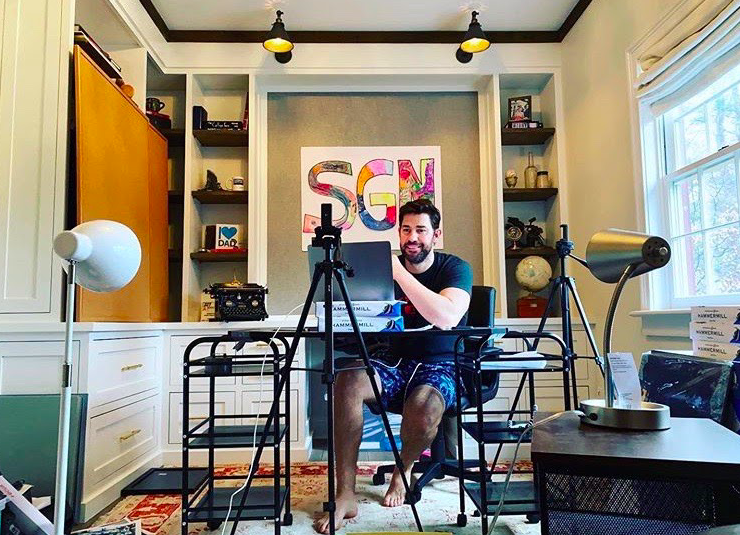 When was the last time you heard good news? Things have been grim lately. Yet, one person familiar to most of us has managed to create a weekly web series devoted to finding positive stories amid the coronavirus crisis to cheer us up. 
When actor John Krasinski, known best for his role as Jim Halpert in the popular sitcom The Office, noticed that the news was getting pretty depressing, he turned to Twitter, asking people to send him uplifting stories. Inspired by their submissions, he created the Youtube Channel Some Good News (SGN), reminding viewers that "no matter how tough life can get, there's always good in the world."
The show has a decidedly DIY feel. Krasinski films from his office, using an SGN sign hand-painted by his daughters as a backdrop. Though he constantly mocks his lack of expertise as a news anchor and the "low quality of the show," Krasinski manages to create a heartwarming show for viewers to enjoy each Sunday night. With his YouTube channel amassing over 2 million subscribers and 20 million views, it is clear that some good news is what the world needs right now.
Most of the content comes from viewers; each week, Krasinski combs through thousands of good news submissions from Twitter and Instagram, ranging from proposals, to family quarantine antics, selecting the ones he thinks will resonate most with viewers.
Krasinski also tries to make up for all the events that people are missing out on. When he learned that a team of nurses in the COVID-19 unit at Beth Israel Deaconess Medical Center in Boston were missing their Red Sox games and players, he surprised them with a virtual visit from David Ortiz, and then sent a bus to take them to Fenway Park to throw out the first pitch of the season and run the bases at the legendary stadium. To cap it off, he arranged for the hospital's staff to receive four season tickets for life, a gift even Kransinski jokingly envies as he has been on the waiting list for season tickets for 16 years.
In episode two, Krasinski saw a tweet about a little girl who was supposed to see Hamilton, but the show had been canceled. She had to settle for a movie night at home, so he invited her to Zoom into SGN. As she professed her love for Hamilton, Lin-Manuel Miranda suddenly popped up to greet her, followed by the entire original cast of Hamilton, who performed the show's title song. "These people haven't been together on Broadway in years," said junior Ellie Sanderson. "Seeing them come together to give a kid joy by reuniting really made my day when I watched it."
As many Hi's Eye readers know all too well, while baseball and Broadway shows will come back, once-in-a-lifetime celebrations like proms may be missed entirely by this year's seniors. Kransinski's solution? Simple: He hosted his own virtual prom. Featuring live performances from top artists like Billie Eilish and the Jonas Brothers, with Krasinski DJing, the music at this dance was better than any average high school prom. "It's not a substitute for the actual prom, but John Krasinksi put in a great effort so we could not feel so alone in these cut-off times," said Sanderson.
Krasinski has not forgotten his fanbase, either. He has invited a number of his Office co-stars, including Steve Carrell and Rainn Wilson, to share memories and favorite moments from filming the show.
 "The Office is a show I have always been able to bond with people over no matter who it is, and this takes it to a whole new level," said senior Sophie Wayner. "It makes me happy that people are still so determined to find the good in this chaotic situation."
Not only is this show spreading good news across the internet, it is encouraging all of us—individuals and companies—to do the same. Krasinski dedicated episode three to healthcare professionals working tirelessly to help fight COVID-19. To thank them, he partnered with AT&T, who will be covering the phone bills of every nurse and doctor in America for three months as a way of saying thank you.
With everything going on in the world right now, it is easy to lose sight of the good around us, in the form of people and communities coming together. SGN is a reminder that even in dark times, good news can shine through.