Reflection on a senior season cut short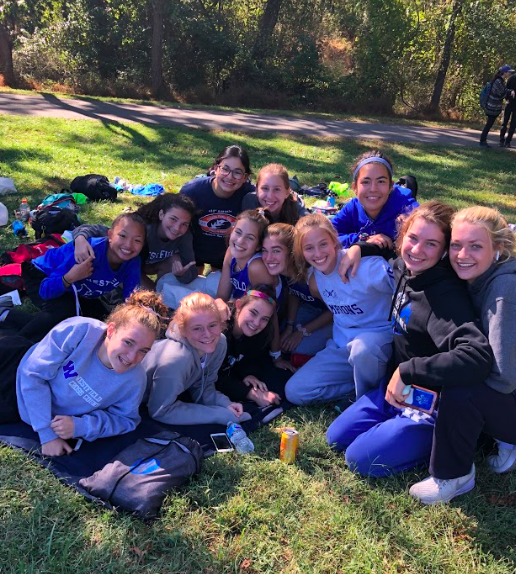 I've walked into the locker room at Kehler Stadium hundreds of times feeling anywhere from excited about the warm weather to anxious about time trials and races. While it's normal to feel nervous sometimes, especially before meets or hard workouts, my teammates and I have never before felt the uneasiness we all experienced on March 13, the last day of school before quarantine and social distancing began. 
I remember sitting through my coach's talk, as he explained that our spring track season would obviously be put on pause. While I was disappointed my last season was being interrupted, the possibility of holding captain's practices in small groups and returning after spring break left me with a bit of hope. 
Being a part of the girls cross country and track team since my freshman year has allowed me to cheer on tons of varsity races, but I have never ran in a varsity race myself. For the past four years I have been training with lower running groups rather than as a top competitor, so I started to ask myself why has this halt to the season affected me so deeply? 
There are many athletes I know, including other seniors like myself, who give sports their all, even though they are no match for their faster, stronger teammates. Even when I was well aware that my performance did not affect our top racers' placing, I still found myself giving each race everything I physically could.
Over the years it's become obvious that my motivation and drive lies with my teammates, the people who are more invested in my personal achievements rather than how my times compare to everyone else's. These past few weeks have been undeniably challenging for every athlete, varsity or not, as we are all unable to spend our afternoons with the people who push us to be the best we can be.  
To keep our team close and our motivation high, our coaches have encouraged us to stay in touch with our running groups, updating each other on how our training and lives at home have been. While it's obviously incomparable to the in-person interactions we are all used to, the collaborative efforts of the team to stay connected serves as a reminder: we're all working through these challenging times together.
As our local parks and Kehler remain closed to increase social distancing, I find myself in an even more unsettling reality. Working out without my teammates has been challenging in itself, and with limited spaces to exercise, it is extremely difficult to mock a typical practice. Usually I am someone who tries to make the most out of every situation possible, but the likelihood of not having an official end to the season leaves me feeling overwhelmed, as my chapter at WHS is coming to an end with little closure.  
I am beyond grateful that my family and I are safe and healthy, as I am aware that things could be much worse, but this mandatory break from normal day-to-day life still stings. To the seniors who were expecting one last season, the athletes who worked hard to finally make varsity and everyone in between, the uncertainty of whether we will step foot on the playing field again hurts. 
It is undeniable that we have all been robbed of some of the most memorable parts of high school, but our teams are too strong to let this ruin our experiences as a whole. Although our seasons did not turn out how we were expecting, it's important to remember that the memories we've created with our teammates as high school athletes will stay with us forever.