Anti-lockdown protests spark debate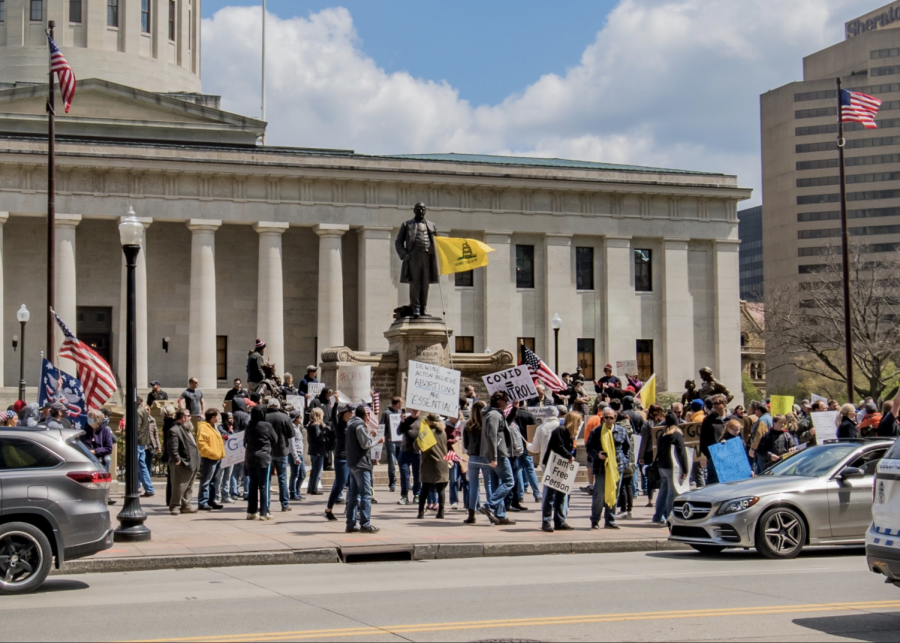 For the past several weeks, protestors have gathered in several states across the country to demand that the government reopen businesses and lift quarantine orders despite the ongoing pandemic. While starting out in small numbers, the protests have continued to grow over the last couple of weeks.
Most of the individuals protesting identify as conservatives, claiming that the government forcing them to stay home is an illegal encroachment on their personal freedoms. Others claim that the government's shutdown of businesses is an unwarranted attack on the free market economy. One woman in Wisconsin last week proudly held up a sign reading, "social distancing is communism."
Naturally, given the political nature of the protests, they have sparked heavy debate. The same day as the protest in Wisconsin last week, the state saw its highest daily increase in confirmed positive cases of COVID-19. That night, nurses lined the state Capitol steps with 1,300 electronic candles as a silent counter-protest. The anti-lockdown protestors have mainly been criticized for violating the CDC-recommended guidelines of avoiding gatherings of more than two people. 
Despite the controversy surrounding the protests, they have achieved some of their goals already. In an interview last week on The Hugh Hewitt Show, Attorney General William Barr said the Justice Department would consider pursuing legal action against states who implement COVID-19 restrictions that the department feels, "go too far." President Trump has also started to put increased pressure on state governors to reopen their economies.
"I think we are already seeing the impact of these protesters, as some states with Republican governors who are close to the president have begun lifting restrictions and using the same language as the protesters," said WHS Social Studies Teacher Daniel Farabaugh. "This is not surprising, given that the protests are being organized by conservative groups. Politicians are susceptible to pressure, especially if it is coming from their base and a president of their party."
Some critics of the protests have also pointed out that the media's continued coverage of the protestors has only served to fuel their growth. Both positive and negative reporting of the protestors and their motivations has become an almost daily feature for most major news outlets. The first protest documented two weeks ago was relatively small, but after the media storm that surrounded it, most protests taking place are now attracting nearly 1,000 protestors. 
"I absolutely believe that [the protests] are being fueled by media coverage," said Farabaugh. "Specifically, conservative media, which has given this laudatory coverage. People respond to what they see. I would also say that those who disagree with it are gaining support as well, [but] you do not see them because they are staying home. Media coverage tends to confirm our preconceived notions."
Given the debate surrounding them, it will be interesting to see if the protests continue to grow over the coming weeks. On April 28, Women for America First, a pro-Trump political action group, announced that they are planning "dozens" more rallies, including some in current virus hot spots like New York City and Los Angeles. A movement has also gathered support among Wisconsin protestors to recall the state's governor and lieutenant governor for their restrictive lockdown policies.
"I think [the likelihood of protests growing in size] depends on the number of people getting ill," said Farabaugh. "If you see significantly increasing numbers in areas where the virus is restricted or sickness among the protesters, the numbers of protesters will decline. Also, it depends on whether or not governors remove restrictions based on death tolls."