Governor Phil Murphy announces "The Road Back" and new park mandates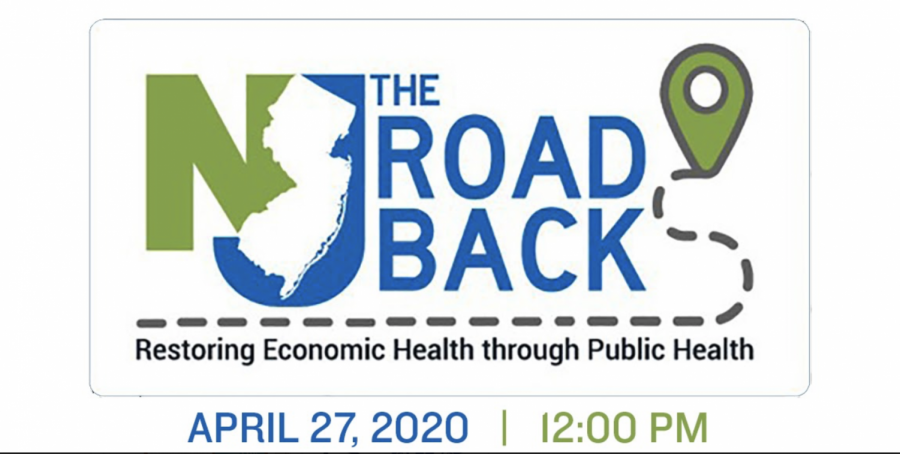 On April 27, Governor Phil Murphy announced his six-step plan entitled "The Road Back," outlining the necessary steps for safely reopening New Jersey. Murphy was joined in the briefing by Representative Tom Malinowski, Lieutenant Governor of New Jersey Sheila Oliver, Commissioner of the Department of Health Judy Persichilli and Superintendent of New Jersey State Police Colonel Patrick Callahan.
The foundation of Murphy's plan is "restoring economic health through public health." The first principle of his plan is to see sustained reductions in new cases and hospitalizations, ideally with 14-day trend lines showing these sustained drops. Additionally, he is hoping to see hospitals gradually functioning less under crisis standards of care.
The second principle outlined by Murphy is to expand the state testing capacity. He hopes to at least double the current diagnostic testing capacity, which is on pace to occur by the end of May. Murphy also explained the need to prioritize testing for health care workers, essential personnel and vulnerable populations, as well as create a flexible testing plan accessible to all residents. He intends to expand partnerships with institutions of higher education, private-sector labs and the federal government. Finally, he wants to ensure that those who test positive are linked to a proper health care provider.
The third principle of Murphy's recovery plan is to implement robust contact tracing. His focus is to recruit and deploy an army of personnel who will identify and follow-up with contacts, leverage technological data to increase efficiency and coordinate with local and state health officials.
The fourth principle announced by Murphy is to secure safe places and resources for isolation and quarantine. He hopes to provide individuals who do test positive for the virus with a safe and free place to isolate, protecting others from getting infected while also ensuring that quarantined contacts are given supportive services if needed.
Murphy emphasized that the first four steps of this plan are crucial in ensuring that residents are able to feel safe in public again. "Let me repeat a basic truth," Murphy said. "Until we give the public confidence that they should not be fearful, we cannot take further steps. A plan that is needlessly rushed is a plan that will needlessly fail."
The fifth step in Murphy's plan is to execute a responsible economic restart. He hopes to accomplish this by creating the Governor's Restart and Recovery Commission, which will be tasked with advising and recommending responsible and equitable decisions. He also intends to allow a methodical and strategic return to work based on the level of disease transmission risk and essential classification, as well as to leverage any available federal funds and programs to support health care, individual and small business recoveries. 
Murphy continues to enforce social distancing measures in the meantime. "I want nothing more than to see every main street filled with shoppers and diners once again," Murphy said. "I want to see the shore humming through the summer. We will move as quickly as we can, but as safely as we must."
The sixth and final principle to Murphy's plan is to ensure the resiliency of the state. He said that he hopes that everyone across the state learns from the lessons of this virus and prepares for a possible resurgence in the future. He aims to ensure that hospitals and healthcare systems have sufficient inventories of personal protective equipment and ventilators. Murphy likewise plans to build a state personal protective equipment and ventilator stockpile and create a playbook for future administrations for the next potential pandemic.
Murphy ultimately announced that his Stay-at-Home Order, which has been in effect since March 21, will remain in effect until further notice. Although he did not outline any specific dates for the steps of this plan, he said that he will revisit the topic of reopening schools across the state on May 15. 
Senior Chelsea Birkel is hopeful that proper social distancing will allow for schools to reopen before the end of the school year. "If people don't keep social distancing, the little hope of reopening schools will fall through," said Birkel. "If we keep it up, some senior celebrations can be salvaged, but if not, it puts the future in danger for not only the Class of 2020 but for all students."
Most recently on April 29, Murphy signed an executive order that will reopen state parks, golf courses and county parks across the state. This order will take effect beginning at sunrise on May 2. As of Murphy's latest update on April 30, there are 118,652 total cases of COVID-19 in New Jersey; he additionally reported that the number of deaths statewide due to the virus has reached 7,228.