Fashion forward senior projects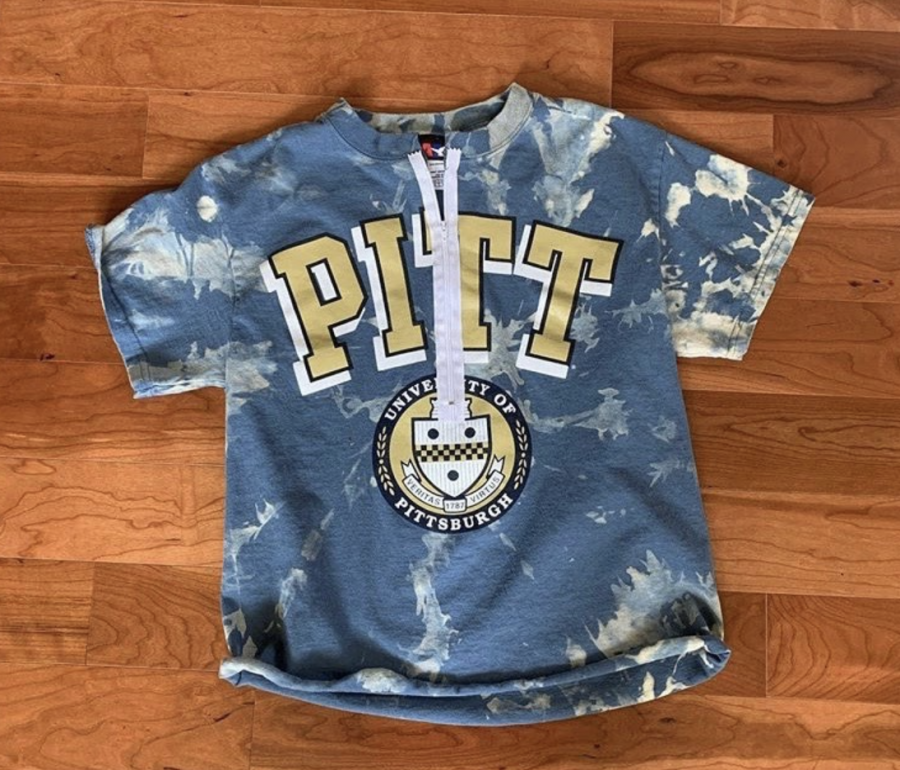 Senior projects, a vital part of the WHS seniors' curriculum, give students the opportunity to explore topics they feel passionate about by researching and creating products and presentations that they share with their peers. As with many things, senior projects have been modified due to new COVID-19 restrictions. And while COVID-19 has affected every part of American culture, the world of fashion keeps turning and many seniors recognize this and have created fashion-based senior projects.From the perfect college tailgate gear to upcycling, WHS seniors have pushed the boundaries for creating clothes for themselves and their peers, all while learning practical skills and having fun. 
WHS senior Demi Tsavekou knew that she wanted to design and sell clothes since her junior year, and the senior project presented the perfect opportunity for her to do so. She created her Instagram @demi.designs to showcase and sell the college gear she has designed. 
Her process for creating her clothes can sometimes be challenging as she uses a vintage clothing store to purchase the articles. "Since it's vintage, I can't afford to be picky," said Tsavekou. "I have to take what they're selling and it can be hard to find certain universities." 
After she finds a piece that matches the buyer's school and style they want, she remodels the piece by cropping, tie dying or adding lace, to make trendy college spirit wear, a process that can take several hours to achieve. For Tsavekou, this school assignment has become a thriving business she will be continuing with her roommate at college next year.
As with most fashion, the more popular a product gets, the more expensive it becomes. WHS senior Mady Cohen noticed this and it sparked her senior project for cheaper stylish clothes. "As I went to go buy tie-dye clothes online, I noticed that they were getting expensive because the trend became popular very quickly, so I figured I could find a cheaper DIY fix," said Cohen. She expanded on her experience of tie-dying at sleepaway camp and started selling clothes through her Instagram account @tiedye.by.mads and became an instant hit.
Cohen's project started off with 10 sweatshirts and a few bottles of dye. She was never expecting her project to sell to anyone other than a few close friends, however, a few days and dozens of orders later, her project took off. But this success brings challenges as it can be hard to buy the right amount of sweatshirts and dye and get the items in a timely manner, Cohen explained. 
In the end, however, it was all worth it: "I am having fun doing it and I love to see the pictures of everyone wearing my stuff," said Cohen. With the spreading support of her items and a growing interest in the hobby, Cohen plans on continuing the project throughout quarantine despite her official senior project wrapping up soon.
While tie-dye might be the trend of today, WHS senior Alexis Hammer opted to upcycle and embroider her old clothes. Her love for fashion and thrifting made this project easy to come up with, and while she has had experience upcycling, taking old clothes and making them into something new, before, her project opened up a whole new section of fashion for her: embroidery. Hammer utilizes her clothes that can be revamped, and with the help of YouTube and Pinterest, she comes up with her designs and starts the process. Hammer's projects can take up to six hours each, but the end result is well worth it.
 "The best part is when I finally finish a project. It's so rewarding to be able to actually wear something and say 'I made this!'" Hammer said. Hammer then posts the finished product on her Instagram @hammerembroidery and loves to see the responses from her followers. 
Not only has this project provided Hammer with unique new clothes, but it has also changed her perspective on shopping. "When I am done with this project, I will have learned a lot about embroidery as well as fast fashion, and it will influence my shopping habits in the future," said Hammer. "I hope that the senior project is only the beginning for me and that I continue to upcycle clothing."