WHS‌ ‌senior‌ ‌class‌ ‌president‌ ‌addresses‌ ‌NJ‌ ‌Governor's‌ ‌graduation‌ ‌ceremony‌ ‌policies‌ ‌ ‌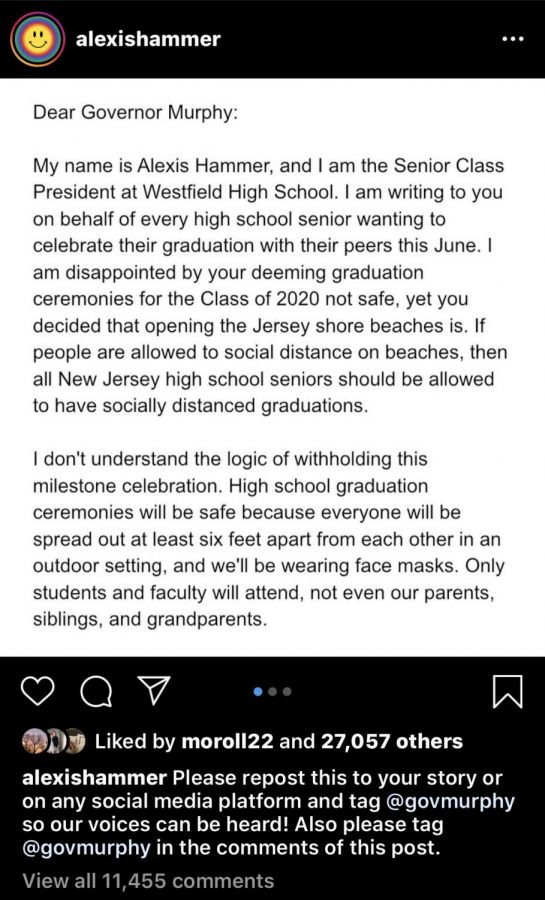 On May 18, Senior Class President Alexis Hammer posted a letter to New Jersey Governor Phil Murphy, on Instagram, asking him to reconsider allowing socially-distanced graduation ceremonies. When posting, she expected some feedback from her fellow WHS classmates and senior friends from around New Jersey, but did not expect nearly as many responses as she received.
"I am disappointed by you deeming graduations for the Class of 2020 not safe, yet you decided that opening the Jersey shore beaches is," read the letter. "If people are allowed to social distance on beaches, then all New Jersey high school seniors should be allowed to have socially distanced graduations." 
As of Wednesday morning at 9 a.m., the post has amassed over 27,084 likes, 11,458 comments, and 15,435 shares, showing that the post has reached far beyond WHS. The comment section is flooded with users from all around NJ tagging @govmurphy in hope that he notices the post and re-evaluates his policy. While her letter (which was also sent to Governor Murphy's office in print) has not reached Murphy yet, Hammer has started a conversation among the app's users, especially among high school seniors. 
 Many seniors who agree with Hammer's opinion reposted the letter to their Instagram stories, encouraging others to spread the word. WHS Senior Jon Grossman, who shared the post to his story, said, "We may have lost our last moments in high school, but with Alexis's post we might be able to salvage something, which would be really special." 
Additionally, other senior class presidents from around New Jersey have reached out to Hammer regarding her post. She hopes to work with these student leaders to advocate for socially-distant, safe graduation ceremonies. "Obviously I'm proposing an in-person ceremony for seniors, but it's really cool that the post that I made has developed so many virtual connections as well," Hammer said. 
While Hammer has received vast support from seniors around the state, she has also received opposition and negative comments denouncing her opinions, many from people she doesn't know. Some argued that since the beach brings in revenue and graduation ceremonies do not, her comparison is invalid. 
Some users just called the idea and Hammer herself "stupid" and "selfish," along with other baseless and hurtful claims. Tuesday night, she reminded people via her Instagram story to "think before you type," as people are entitled to their own opinions, as long as they don't use hateful words to demonstrate them. Hammer wants to maintain a civil environment on her post and account. 
Many other counter arguments continue to fill her feed, but Hammer has done her best to respond to them in a respectful manner. "I still want to respect the fact that everyone has their opinion," Hammer said. "The main reason I posted this is because I have an opinion and I want the governor to respect my opinion and consider it."
As time goes on, Hammer remains respectful towards her commenters and positive about her post's impact. She hopes Governor Murphy will eventually read her words and take her voice into account, but until then she will continue this dialogue through social media: "I am going to keep it up, keep talking about it. Because once someone starts the conversation, it can definitely continue."