Reopening New Jersey: Is It Too Soon?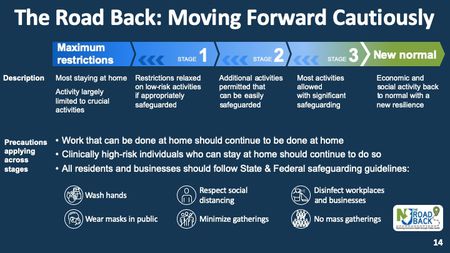 Reopening could cost thousands of lives; however, not reopening will cost millions of jobs.
The biggest argument for reopening the country is that the United States is in one of the worst economic situations since the Great Depression. As of Hi's Eye deadline, the unemployment rate in New Jersey alone is 15.3 percent leaving many to rely on food banks, unemployment checks, and the charity of their neighbors and communities. 
People who own small businesses are being hit hard and are scrambling to create social distancing protocols so that when the time comes, customers will feel safe when entering into businesses or eating at restaurants.  
My mother, Julie Shanebrook, owns Chill Cryotherapy on South Avenue, and I know firsthand the stress that comes with making sure clients and customers can feel safe. 
Government aid to small businesses through the Small Business Association has been little help, giving large bailouts to large companies like Ruth's Chris Steakhouse and Shake Shack (who, granted, gave back the money), leaving little for actual small businesses who don't have the monetary backing of a large corporation.
Despite the economic situation, there is also the health of the American people that our leaders need to consider when thinking about reopening.  As of Hi's Eye deadline the death toll in America is at 109,000 and the infection rate is 1.89 million people.
Governor Murphy has come up with a relatively responsible way for New Jersey to reopen, creating phases and allowing the more essential businesses to open up first. Though stores will be open, people are expected to continue social distancing and large crowds or gatherings are discouraged
As reported by The Guardian, a different model for reopening is Sweden, which left schools open for those under 16. They asked people to avoid large gatherings, but allowed things like stores, gyms and restaurants to stay open.  All of this was in the name of herd immunity, and officials expected to have an immunity rate of 40 percent to 60 percent with earlier calculations, later saying that they expected a quarter of their population to be immune by early May.
These predictions were egregiously wrong, with the immunity rate in their capital of Stockholm only at 7.3 percent. They are currently suffering from one of the highest death rates in Europe.
Using Sweden's failure as a model, I believe that the United States will have to remain vigilant and open slowly, perhaps even slower than the current plan for New Jersey. Though a slow reopen is possible, it's hard to tell how the public will respond and whether or not they will follow government guidelines for wearing masks and social distancing. 
I would hope that the leaders in America and in New Jersey will have the integrity to walk-back some of their policies regarding reopening if it leads to a massive spike in cases, even if the country's economic situation will suffer.