Is it still church if I'm not at church?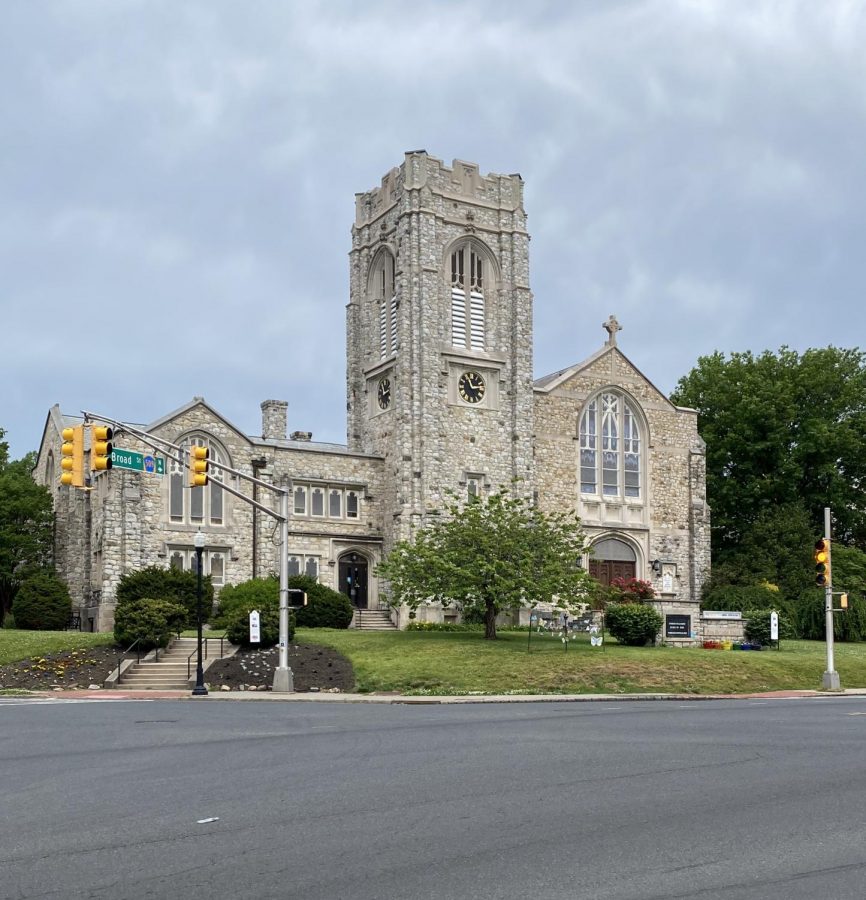 For as long as I can remember, my family and I have attended church every weekend. It didn't matter if we were on a vacation or a college tour; we somehow always managed to find a church to go to on Sunday morning. 
Unfortunately, this tradition has been put on hold as the coronavirus caused our local church, St. Helen's Parish, to close its doors on March 15. I haven't attended an in-person mass in 12 weeks. 
Even though its doors are closed, St. Helen's and many other religious institutions have begun to live-stream their services. Every Sunday at 9:30 a.m, I still "attend" church with my family, just from a couch and in front of a TV instead of in a pew. 
Despite technical difficulties and safety regulations the church must abide by, these past few months of online masses have been an amazing alternative to in-person masses. The online masses have been remarkably similar to normal masses, with singing, bible readings, and a homily. The video quality of these masses has also been clear. 
However, live-streamed mass is still not the same as in-person mass. I can't interact with other parishioners, see my friends, or participate in parish ministries like I used to. Most weekends, I wake up a minute or two shy of 9:30 a.m. and watch the mass from my couch with my pajamas still on. 
During the mass, I find myself having difficulty staying focused, and I barely retain any of the information from the readings and the homily. Without other parishioners surrounding me and holding me accountable, my eyes somehow drift from the TV to TikTok and Instagram on my phone. Sometimes, I eat breakfast while watching, and one time, I fell asleep for half of it. 
I am also a peer minister, which means I teach a group of freshmen about the Confirmation process and help them grow spiritually, but I haven't been able to meet with them in months. My summer service trip to Sr. Pat's Kids Camp, a week-long camp for children with cancer, has also been canceled.
I understand that religious institutions had to close and transition to virtual services to combat the spread of the coronavirus, but now is the time to open them again. According to NJ.com, Gov. Murphy has allowed beaches, parks, non-essential construction and drive-in activities to begin again, and has loosened social-distancing regulations to allow groups of 10 to gather indoors and groups of 25 to gather outdoors. He is hopeful that churches can resume indoor services on June 12 with reduced capacity, although that date is not official yet. 
A place to worship that brings people together is necessary right now, and while many congregants are elders who are at a high risk of contracting the virus, most churches are taking the threat of the coronavirus seriously. Before St. Helen's closed, they were holding "no-touch masses," where the parishioners attended mass without touching anything except their seat.
As the country begins to open again, religious institutions should not be left behind. Religious institutions can reopen safely with reduced capacity and spaced-out seating arrangements. Congregants would be required to wear face masks, the eucharist would not be offered, there would be no shaking hands or greeting others physically, and disinfectant protocols could be put in place. A system could be made where parishioners that want to go to mass could reserve their spot ahead of time to ensure that the church would not overfill. 
Regardless of the safety procedures each religious institution chooses to adopt, the time to open them is now. Many religions have already missed the opportunity to observe important holidays, such as Easter, Passover and Ramadan, among others. To make up for the lost time and missed celebrations, the opening of religious institutions should be more of a priority to politicians. In times of uncertainty and difficulty, people rely on their religion for guidance, hope, and peace of mind, and they should be able to attend religious services in person.