Honoring a hero: the campaign to rename WHS after late principal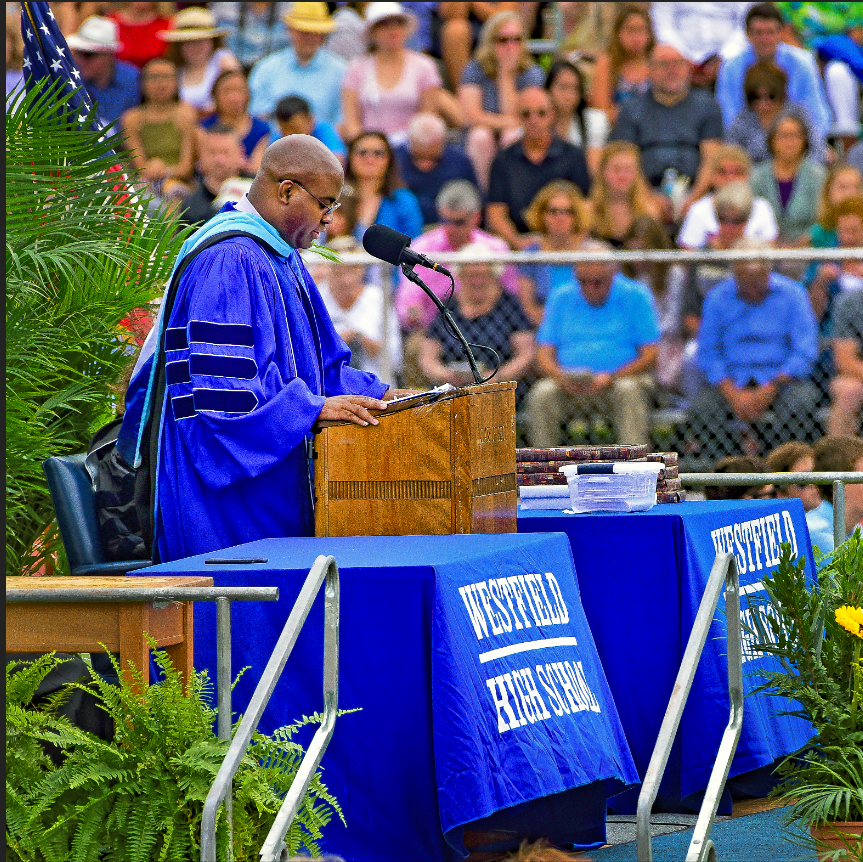 WHS principal Dr. Derrick Nelson passed away in 2019 when donating stem cells to a young boy in need. Nelson was the first black principal in WHS history and was a role model to many for his heroic actions and dedication to the Westfield community. Nelson was recognized and honored for his sacrifice by various national news organizations, including Time and the Washington Post. In the midst of a country fighting for racial equality, there has been a local initiative to rename WHS after the beloved late principal.
The petition, officially known as "Change the name of Westfield high school to Derrick Nelson High School," was founded last year by WHS 2019 graduate Jason Starkman. Caroline Barry, a graduate of WHS class of 2016, has recently taken charge to further the initial proposal, expressing her support for the renaming at the Board of Education meeting this past Tuesday. 
According to Barry, the petition gained 27,000 signatures in 2019. Now, after Barry reopened the petition, it has a total of over 30 thousand signatures—almost the population of Westfield.
"I think that Dr. Nelson represented a lot of positive change when he became principal, and to honor his legacy in such a grand way would be completely fitting for the impact he had on the students, on the curriculum, and especially in the diversity of the community," said Barry. "It's no secret that Westfield needs improvements [in the curriculum] in terms of the content and the way that was shifted now. The name change would be a very good signifier of Westfield making the right move." 
Barry noted that the social climate today makes it especially appropriate to bring up this issue again. "Most importantly, with the anti-racism movement in the country and the world, I think that there is no better time than right now to honor the first African-American principal that Westfield High School's had in a way that is so public," she said. 
The BOE meeting held on June 9 provided important information on the status of the renaming campaign. "The responses were primarily from Peggy Oster and Dr. Dolan," said Barry. "They basically said that they are unable to rename the high school in honor of Dr. Nelson and instead, the PTSO is working with students, faculty and the board to create a smaller tribute." Barry did note, however, that there is a meeting happening later this week regarding the same subject and that she has "brought [the topic] back into the conversation." 
While there are obstacles, the fight to honor Nelson is far from over. Barry believes that if the community comes together to support the cause, the school being renamed is still a possibility. "There needs to be pressure put on the Board," said Barry. "If the students, faculty, and members of our community as a whole, including the other schools, residents and taxpayers [support the decision], it is possible that this may happen." 
The petition to rename WHS after Dr. Derrick Nelson can be found here