Murphy enacts new COVID-19 restrictions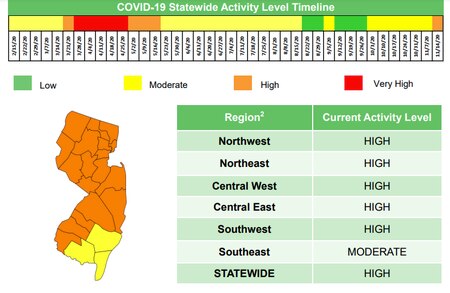 With cases of COVID-19 rising across the country, New Jersey is taking measures to keep residents safe. Out of all four colored COVID-19 activity zones, green being low, yellow being moderate, orange being high and red being very high, most of New Jersey is orange with about 4,000 new cases each day. 
New Jersey is still in phase two of Gov. Phil Murphy's reopening plan, where moderate-risk activities can restart and non-essential businesses can operate. But, many people are concerned about what the next month will bring."I think that because of the holidays, some restrictions are going to become stricter," said  WHS senior Ali Brennan. 
Though rumors regarding a second lockdown are circulating, New Jersey Governor Phil Murphy regards this as a last resort. Social gatherings are still permitted as long as COVD-19 guidelines, such as social distancing and wearing a mask, are followed. However, starting on Dec. 7, outdoor gatherings will be limited to 25 people instead of the previously allowed limit of 150. Regular indoor gatherings, like going to a friend or family member's home, are limited to ten people, but weddings, memorials, funerals, religious services, and entertainment arenas can be held at 25 percent of the room's capacity, or, at most, 150 people.
All indoor sports, with the exception of the college and professional level, will be on pause from Dec. 4 through  Jan. 2. Schools are still allowed to remain open for in-person learning, and it is up to the school district to make this decision, though many schools are moving to full-remote for the time being. 
Bars and restaurants are still allowed to operate, with indoor seating allowed. Masks must be worn when not eating or drinking, and groups must stay six feet apart. Gyms, libraries, personal care businesses, warehouses, construction, horse race tracks, casinos, pools, playgrounds, amusement and water parks, tutoring facilities, entertainment venues, golf courses, child care facilities, retail businesses, and malls are permitted to stay open as long as COVID-19 safety guidelines are followed. 
Although many areas of New Jersey are staying open in accordance with these guidelines, other areas are taking further precautions.  Newark entered a ten-day stay-at-home advisory that began on Nov. 26 and was lifted on Dec. 4, with all non-essential businesses staying closed until that day. 
Traveling out of New Jersey is discouraged, and those who must travel have to quarantine for two weeks upon their return. "It's really hard to navigate through the college search process because a lot of schools I'm interested in are out of state, but I understand that safety comes first," said WHS senior Talia Malinsky. 
Though the upcoming weeks remain uncertain, New Jersey residents are expected to still follow COVID-19 guidelines, and perhaps next year can bring better times.