What you need to know about the return of March Madness
Be sure to read the detailed staff picks below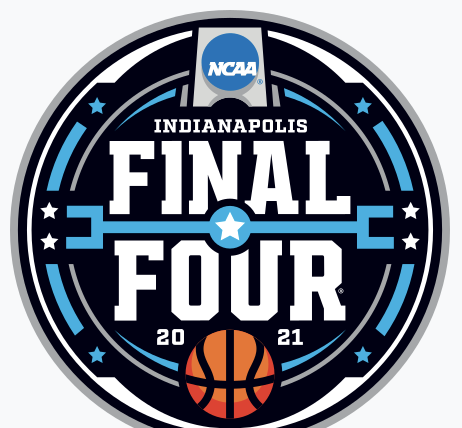 March Madness is back! It has been two years since America's favorite college basketball tournament happened and we couldn't be more excited. The festivities began with Selection Sunday and games started on Thursday with the first four games. However, the big dance will look different from past years due to COVID-19 protocols. 
For starters, the entire tournament will be played in the state of Indiana, with most games taking place in Indianapolis in a variety of stadiums and arenas. In most years the top seeds get the benefit of playing closer to their own schools, however this year that will not be the case. 
There have also been changes regarding the number of fans that can attend the games. The NCAA has allowed a 25 percent capacity for all games with social distancing policies in place. Aside from the players, coaches and the few fans allowed at games, the only other people permitted to attend are the families of the players and essential staff.
Similar to past years, all games will be broadcast on the same four TV stations, CBS, TNT, TBS, and TruTV, with the Final Four and Championship airing on CBS. Additionally,  streaming services such as  Hulu with Live TV subscription, FubuTV and Paramount + will allow subscribers to watch games live. 
So far one team of officials has already been sent home because of a positive test and contact tracing. The same will be done for players if they don't receive seven consecutive negative tests prior to the tournament. In order to play, a team must have five eligible players, if not, then one of four replacement teams will come in to take their place. However, the NCAA recently announced that all teams are a go for the tournament.
Below are some picks and discussions about the major parts of the upcoming tournament.
Most Intriguing Storyline: 
Nate Lechner: The No.1 overall seed in the tournament is the Gonzaga Bulldogs. The Zags have been the best team in the country all season and although they play inferior teams in the West Coast Conference compared to  Big Ten teams like Michigan and Illinois, against tougher competition they have shown no signs of letting up, notably beating Virginia by 23 and Iowa by 11. The Bulldogs are looking to become the first NCAA Men's Basketball team to go undefeated in a season since the 1976 Indiana Hoosiers. 
Noah Metz: Can the Big Ten finally win a National Championship? Since Michigan State won the National Championship in 2000, a Big Ten team has not won the grand prize in the last 21 years. Teams have come close, as Wisconsin, Michigan, Ohio State and Michigan State have all reached the Final Four in the past decade. This year, the Big Ten has nine total teams in the Big Dance, a Big Ten record. Furthermore, they have four of the top eight seeds. The Big Ten is bound to win a championship at some point, but can this be the year they finally break through?
Jake Holtzman: Can Baylor get back to playing its best basketball like they were before their COVID-19 pause?. After starting the season undefeated Baylor was forced to stop playing due to COVID-19 for three weeks. When they returned to play, they were not the same team, they lost two of their final six games and did not look like the same dominant team. However, Baylor has the best guards in the country and I am confident that they can turn it around come tournament time.
Most likely upset: 
Nate Lechner: 12 seed Winthrop over 5 seed Villanova. The Wildcats are reeling ever since their senior point guard, Collin Gillespie, went out for the season with a torn MCL. In their last two games, Villanova has lost to Providence and Georgetown and looked like a completely different team in those contests. On the other hand, the Winthrop Eagles are 23-1 and coming off a dominant performance in the Big South Conference Championship. Every year there is at least one 5-12 upset and I think that the Wildcats are in serious trouble of leaving the Indianapolis bubble early.
Noah Metz: Although I think Winthrop over Villanova is the most likely upset, I also think that Ohio over Virginia is very likely. Ohio has an all-around talent in Jason Preston, who averages 16.6 PPG, 6.8 RPG and 7.2 APG. Ohio won their conference tournament with ease and hung around with number one seed Illinois earlier in the season. Maybe, more importantly, Virginia is coming off a mandatory COVID-19 pause, during which the team could not practice. Teams that have been sidelined because of COVID-19 often return to action rusty and unprepared. Expect Virginia, who was flailing down the stretch and is not a great offensive team, to come out ice cold in the first half and not have enough time or momentum in the second half to make a comeback.
Jake Holtzman: Georgetown. Georgetown is one of the hottest teams entering the tournament after winning the Big East Tournament. Georgetown d  Despite having the worst overall record in the tournament, Georgetown is well-coached and talented. They also are going up against the University of Colorado who had a good season, however, it is always a mystery what the PAC 12 will bring to the tournament.
Cinderella: 
Nate Lechner: The Big Ten was the best conference of the 2020-21 season receiving nine NCAA tournament bids, including the Michigan State Spartans. Tom Izzo's team got off to a rough start to this season but ended well with wins over Illinois, Ohio State and Michigan, three of the highest-seeded teams in this year's tournament. If they are able to defeat the UCLA Bruins in the First Four, the Spartans have a great chance to win against six-seed BYU in the round of 64, and potentially 3-seed Texas in the round of 32, making an unexpected run to the Sweet Sixteen. Michigan State may not be the typical, small-school type Cinderella team, however, they have the players and coaching experience to be a dangerous double-digit seed in this year's tournament. 
Noah Metz: Give me UConn. Sophomore James Bouknight is a beast, and that is all you need to know. Bouknight was injured mid-year, which is probably what stopped UConn from earning a five seed. With him back, this is a team that can definitely get by Maryland and beat an Alabama team that has cold streaks. Once they reach the Sweet Sixteen, a hot UConn will be hard to beat.
Jake Holtzman: Texas Tech. Texas Tech is a six seed, but I feel they can make a deep run in the tournament. Though inconsistent at times this year, they held their own in a tough Big  12 conference and even won some big games. Texas Tech has good guards and plays strong defense, two factors that can play a big role in the success of a team in March Madness.
Breakout Star: 
Nate Lechner: Cade Cunningham is the presumptive number one overall pick for the 2021 NBA draft and has been dominant in the Big 12 for the Oklahoma State Cowboys this season. While there is not much more Cunningham could do to further build or diminish his case to be selected first overall this summer, he could enter true national superstar status if he is able to take the Cowboys into the tournament, which may include a win over number one. seed Illinois. 
Noah Metz: I already spoke about Bouknight and Preston, so I will opt for a different star to argue for. Ohio State forward E.J. Lidell is one of the most underappreciated players in America. Although his stats may not be eye-popping (15.8 ppg and 6.4 rpg in 28 mpg), he makes plays when they count for a very good Buckeyes team. All one has to do is look at the Big Ten Tournament final, where a key block on Illinois star sophomore center Kofi Cockburn sent the game to overtime. Although OSU eventually lost a nail-biter, E.J. Lidell was able to carry OSU to the final of the Big Ten Tournament, and he has the potential to do the same in Indy.
Jake Holtzman: Many would be surprised to hear that UConn has won three March Madness tournaments in the 21st century and in their last two they have had one star to carry them far. Kemba Walker in 2011, Shabazz Napier in 2014 and James Bouknight in 2021. Even though I don't think they will win it all this time I think that Bouknight will take his team far. Bouknight has had a great season averaging 19.0 ppg, 6.7 rpg and 45.3 FG%, however, he did suffer an elbow injury midway through the season and without him the Huskies struggled. I believe that he will continue his great season in March Madness.
Final Four: 
Nate Lechner: Gonzaga, Illinois, Baylor, Alabama. Barring any serious injury, Gonzaga should roll into the Final Four; the three toughest teams they may have to face have already been beaten by double-digits. Illinois is on fire and I don't see any team in their region that they won't find a way to beat. The South and East regions are the toughest for me to pick. If Baylor can get through the winner of Wisconsin/North Carolina and Ohio State, all of which will be tough matchups for the Bears, they should make it to Indianapolis. In the East, Michigan may have a fairly easy first weekend, however, a potential meeting with Florida State could derail their season. If they can get past elite guard James Bouknight and UConn, then the Alabama Crimson Tide have a great chance to defeat Texas and Michigan or Florida State and represent the East Region in the Final Four. 
Noah Metz: Gonzaga, UConn, Ohio State, Illinois. I already spoke about UConn and why I think they have a chance to break brackets. However, my other three Final Four teams are fairly common. Gonzaga, although playing in a fairly easy conference, still went undefeated during the regular season, with wins over the two, three, and four seed in their region. They should cruise to the Final Four and should beat UConn to make the final. On the other side of the bracket, Ohio State has a wide-open path to the Sweet Sixteen. After that, barring major upsets, tough potential matchups against Texas Tech or Arkansas and then Baylor or Purdue await. Ohio State has proved it can hang with the best teams in the country, as they have already beaten Michigan and Illinois. Speaking of Illinois, they may have one of the clearest paths to the final out of any One seed. If they can get by Cade Cunningham and a very good Oklahoma State team in the Sweet Sixteen, they should take care of business against West Virginia or Houston to reach the Final Four. From there, I expect Illinois to win their fourth matchup of the year against Ohio State, as OSU did not have an answer for Illinois' Cockburn the last three matchups, and they won't this time around either.
Jake Holtzman: Gonzaga, Oklahoma State, Baylor, Texas. As a four seed Oklahoma State comes in as the highest-seeded team I have going to the final four. However, having Cade Cunningham as the projected number one pick in the NBA Draft, I know that they will be a tough out. Guard play is vital in the big dance and no team has better guards than Baylor. They should have no problem getting to the elite eight but I can see Ohio State as a difficult game for them, however, I believe they are the best team in the South conference. Texas has a tough road to the Final Four aside from their first-round game, sorry Abilene Christian fans, they are in for some challenging games. But Texas won the Big 12 Championship and looked really strong against a really good conference. Three of my final four teams are from the Big 12 which makes their victory that much more impressive. Finally, Gonzaga has been the best team all year. They also have a very good coach with March Madness experience which is important and overall they are the most complete team in the tournament and that's why they are undefeated.
National Champion:
Nate Lechner: Illinois. The Big Ten was the best conference in basketball this year and the  Fighting Illini proved to be the best team in the Big Ten. Junior guard Ayo Dosunmu and Cockburn have shown the ability to dominate games on their own and role players Adam Miller, Andre Curbello, Trent Fraizer and Da'monte Williams have also been keys to the Illini's success this season. A big part of success in March is momentum and no team has more than Illinois at this point in the season. The Fighting Illini are experienced, battle-tested, deep and I expect them to be cutting down the nets at Lucas Oil Stadium, crowned as national champion.  
Noah Metz: Illinois: UConn is my darling Cinderella, and OSU and Gonzaga are hot. However, it is an Illinois team that has two bona fide stars and one of the best-supporting casts in basketball who will cut down the nets in Indy. For one, Illinois matches up with Gonzaga very well. Illinois has guards to defend Gonzaga phenom Jalen Suggs, and Cockburn to cover Gonzaga All-American forward Cody Kispert. Keep an eye out for Illinois backup center Giorgi Bezhanishvili, someone who can eat minutes when Cockburn is taking a breather. With two lockdown centers, a group of athletic guards and Dosunmu (who needs no explanation), there is no other team built for March quite like the Fighting Illini.
Jake Holtzman: Gonzaga. Overall, Gonzaga is the strongest team in the tournament and has played the most consistent basketball all season and that is why they went undefeated. There are no weak points to this team; they are very well-coached, and are good on both offense and defense. Their path to the championship is easier than the other one seeds as well. Gonzaga will close out this season and remain undefeated by the end. 
Leave a Comment