Behind Westfield's recent burglaries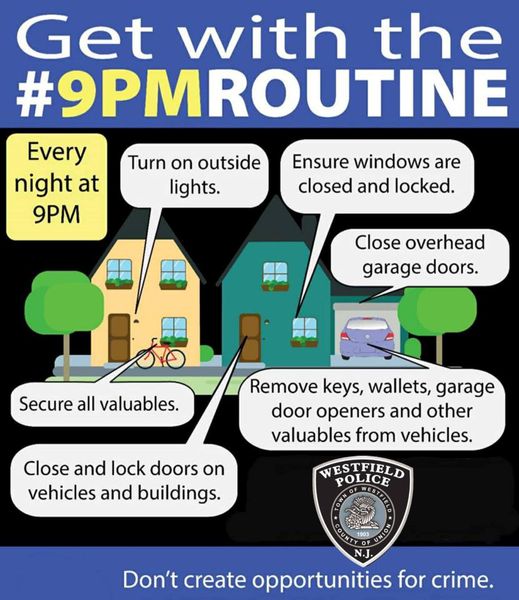 Westfield is a very safe town. It has a responsive and fully-staffed police force. It has homes wired with security systems. It hasn't seen a homicide in 21 years. And yet, in the past few weeks, this family-friendly suburbia has become a car theft and burglary hotspot. 
Westfield's complacency has unfortunately contributed to this uptick in crime. Residents have gotten comfortable in this town and continue to leave their cars unlocked overnight with key fobs in them. Criminals have learned to take advantage of people's negligence. 
So far in 2021, there have been 11 successful motor vehicle thefts; in all of 2016 there were only 5; in 2017 there were 28. Since 2017, Westfield has been pushing about 30 motor vehicle thefts a year. Over a two-week period in April of this year, five vehicles were stolen. If things continue at this rate, Westfield is on pace to set a record high in car thefts this year, surpassing 2017's high.
According to Westfield Police Chief Christopher Battiloro, most vehicle thefts are preventable. If simple measures are taken, such as locking car doors and removing key fobs from the vehicle, Battiloro said with confidence that "at least eight of those eleven [thefts] would not have occurred." 
The majority of these crimes are being committed in the same manner. The Westfield Police Department has observed criminals using GPS devices to target specific homes and vehicles. Battiloro explained, "The criminals are going around and pulling on door handles to look for unlocked cars and houses. They drop pins on a map and come back, either during the overnight hours or early morning hours looking for specific [luxury vehicles]." 
There have been instances of home break-ins as well, such as the burglary on Hillside Avenue where a criminal broke a window to grab a key fob. A similar situation occurred on Codding Road where a key was stolen from a basket inside the front door, and on Hazel Avenue where there was an attempted forced entry. However, these types of cases are far and few. 
On May 18 Westfield's AT&T store was broken into. While some residents have expressed concern over crime escalating beyond car theft and the rare forced entry into houses, Battiloro does not believe last week's AT&T burglary is tied to these car thefts in any way. Recently there have been numerous "smash and grab burglaries" occurring throughout northern New Jersey, to cellular phone stores in particular.
"
we need to make things tougher; we need to lock our cars, take our key fobs with us, move our valuables [out of plain sight] and lock our doors when we go to bed."
— Westfield Police Chief Christopher Battiloro
Battiloro strongly suspects that AT&T was targeted because of its location. Located on the corner of North and Central Avenue, the store provides criminals with easy access to major roadways, making it convenient to come into and leave Westfield quickly. Its close "proximity to route 22 gives them an easy getaway," said Battiloro.
In fact, because so many Westfield homes are near roads like Route 22, criminals can easily return to towns where there are opportunities for cars to be sold, making money a major motivator for thieves. Battiloro revealed that "some of these stolen cars are selling for $7,000 to $10,000 more than they would have previously [because] there just seems to be a very high demand for used cars." 
According to Battiloro, "[This] crime ring is being led by adults [who are] employing juveniles because the penalties against the juveniles are far less." Since the United States' criminal justice system seeks to divert juveniles from conviction, juveniles are usually given lesser sentences than adults. This organized crime is a continuing criminal enterprise that looks to strategically commit offenses without significant repercussions.  
The underlying factors behind the burglaries and thefts go beyond Westfield. It's simply impossible for the police department to solve all of these issues. "Unfortunately, I, as a municipal police chief, can't fix the inequitable distribution of wealth and I can't fix problems like drug addiction," said Battiloro.
Since there are commonalities and links between many of these crimes, municipal police departments are able to work together. Sharing information about suspects and reported criminal behavior with nearby towns allows Westfield to be proactive when it comes to stopping crime. Many of the criminals coming to Westfield are repeat offenders who have been caught in neighboring towns. Working with other law enforcement agencies statewide makes it faster to develop suspects and ultimately identify them in an effort to seek an arrest. 
The Westfield Police Department has increased their patrol in the middle of the night; now it is up to the residents to do their part. With over 10,000 households, 308 streets, 1,750 intersections and 100 miles of paved roadway in Westfield, the police rely on citizens to "report suspicious activity [and] suspicious persons to [them] so [they] know where to direct [their] controls," said Battiloro. 
It's not just the police who need to take preventive steps; as a community, we can take more precautionary measures. Battiloro stressed that "we need to make things tougher; we need to lock our cars, take our key fobs with us, move our valuables [out of plain sight] and lock our doors when we go to bed." 
Some of it is common sense, but a large part of combatting this crime is looking out for one another. "Talk to your neighbors, look out for your neighbors, share information with them. If you're going on vacation, let them know," Battiloro urged. 
Some neighborhoods have even hosted lawn talks to spread awareness about deterring crime. Ward Two Councilman Mike Dardia advocated the importance of transparency and sharing as much information as possible with residents to relay an open dialogue between the community and law enforcement. The point of these discussions is to "listen to people's concerns and provide them with facts," said Dardia. "So please invite us to your front yard and we'll have a discussion around facts."
Crime cannot be eliminated altogether, but it can be pushed elsewhere. When the crime goes to other towns "those thieves are getting the message. They know that Westfield is no longer a target…they're not going to be able to access our vehicles or access our homes like they have been," Dardia said. 
Councilman Dardia believes that "when mostly everyone does what the police are recommending, then this crime will displace. It will go somewhere else. It really is a true partnership. We've got to do our part while the police are doing their part. And unfortunately, the culture has got to change." 
Leave a Comment