The perfect holiday playlist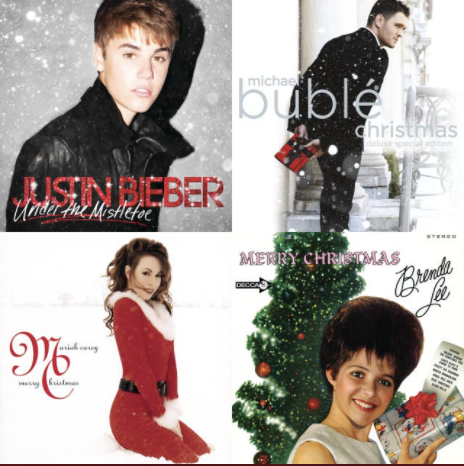 There is no question that the holiday season is always better with music. Music is a reminder of all the joys and celebrations that the season has to bring. Hi's Eye has created a playlist of our top 10 holiday songs for you. 
1. "All I Want For Christmas" – Mariah Carey
This classic song remains at the top of the charts year after year. This is no surprise due to the upbeat melody of the tune that has the ability to put everyone in a good mood.
2. "Mistletoe" – Justin Bieber
"Mistletoe" is the perfect song to get into the holiday spirit. This endearing track reminds those of their love and appreciation for their loved ones during the season. "Mistletoe" is built around a catchy beat that will leave everyone 
3. "Rockin' Around the Christmas Tree" – Brenda Lee
This upbeat timeless song resurfaces every year as an encouragement to celebrate and dance with loved ones around the Christmas tree. Certainly, this song also serves as a reminder to watch Home Alone during the holiday season as well.
4. "White Christmas" – Michael Bublé
The talented Michael Bublé is capable of using "White Christmas" to refresh one's memory of the countless joys of the winter season.
5. "Underneath the Tree" – Kelly Clarkson
Kelly Clarkson encourages listeners to get up and dance with this one. The cheerful tune of the song highlights the joys of the holidays and how to share the excitement with friends and family. 
6. "Santa Tell Me" – Ariana Grande
"Santa Tell Me" is all about sharing love during the holidays and participating in holiday traditions such as sitting at a warm fire while it is cold outside to experience the warmth of the celebrations. 
7. "Jingle Bell Rock" – Bobby Helms
"Jingle Bell Rock" has listeners of all ages "dancin' and prancin'" during the Christmas season. The cheerful tune rekindles the special memories that the holiday season has to offer like going on a sleigh ride. 
8. "Santa Claus is Coming To Town"- Michael Bublé
This jazzy tune reminds listeners to always be on their best behavior as they are awaiting the holiday season. 
9. "Last Christmas"- Wham!
"Last Christmas' works to resurface old memories of the holidays and encourage listeners to reprise the joys of the season.
10. "Let it, Snow! Let it, Snow! Let it, Snow!" -Dean Martin
This classic song reminds listeners about the love during the holiday season, especially how much joy that snow brings to the winter months. This song emphasizes the idea that the snow encourages us to drop our plans and instead spend time with the people we care for, relaxing in the warm indoors. 
Leave a Comment