Mayor Brindle's swearing-in ceremony draws protesters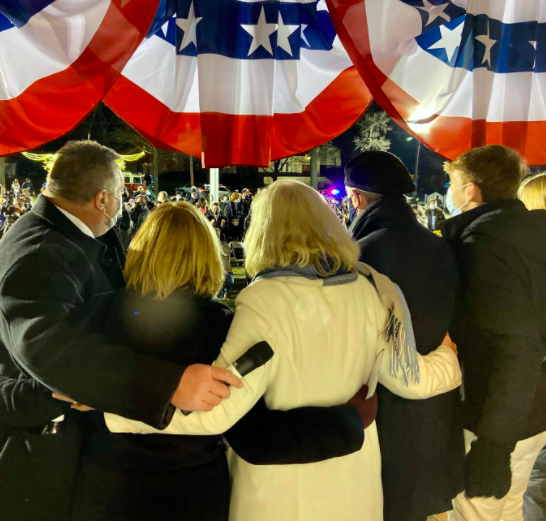 A customary swearing-in ceremony turned loud and rowdy as Westfield Mayor Shelley Brindle took the oath of office. The ceremony that took place on the lawn of Town Hall on Jan. 4, was met with supporters and protesters calling on officials to "unmask" their children.
In 2017, when Brindle was first sworn in as the mayor of Westfield, one could not have imagined a ceremony like this one. And that is not only because of the global pandemic.
The ceremony was an outside, fully-masked event open to the public. Brindle's win in November was achieved alongside her "Westfield Together" running mates Linda Habgood, Mike Daria, David Contract and Dawn Mackey, who also swore their oaths on Tuesday night. 
Heavy hitters of the New Jersey political scene were also in attendance such as Congressman Tom Malinowski, who is a supporter of the town, and Governor Phil Murphy. Malinowski spoke at the beginning of the ceremony congratulating the Mayor and council people while touting his own achievements in Washington. Murphy followed with a short congratulatory speech. 
As the ceremony began, a small group gathered behind the audience with bullhorns and signs in hand. As the ceremony commenced audience members fought to hear their congressman and governor speak over the loud chants of the protesters. The protesters, presumably there to catch the ear of the governor, were relentless in their fight to be heard. They chanted "Let our children breathe" and "My body, my choice." 
The speakers did their best to ignore the protesters and continued with the ceremony as planned. Police officers, who were already stationed around the lawn, politely relocated the protesters off the lawn and onto the sidewalk. 
"Obviously it's their right…freedom of speech…but I am very disappointed that they chose to use the community celebration, which is really all about us coming together, to try to disrupt and overshadow the message," said Brindle.
During a moment of silence for COVID-19 victims, the protesters continued to chant into their bullhorns. "I felt they were very tone-deaf when they continued to shout over a bullhorn during a moment of silence for the victims, it was incredibly disrespectful and inappropriate," said Brindle. 
Members of the Brindle team were seen talking to the protesters, attempting to defuse the situation. As the protest continued, Murphy swore the Mayor and four council people into their second terms in office. 
At the end of the day, Brindle and the council people took their oaths of office, and a group of citizens used their first amendment right to stand up and protest for what they believed in.
Leave a Comment