New coaches 'Spring' into action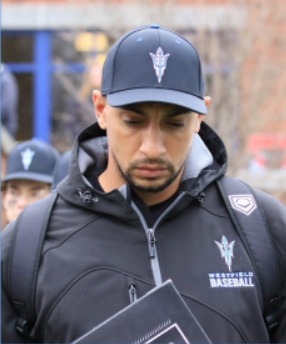 If April showers bring May flowers, then the baseball and girls golf teams will grow to new heights under new leadership. Both of these pro-
grams welcomed new head coaches this year to start the 2022 athletic season.
On the diamond, Physical Education Teacher Jay Cook filled Robert "Bob" Brewster Jr.'s position (his former coach) when Brewster retired after 38 years. Under Brewster's guidance, Cook had a Hall of Fame career as a right-fielder and pitcher for the Blue Devils, and still holds the school record for most triples in a game (2), season (7) and career (12).
As an on-and-off assistant coach since 2015, Cook said, "It's a huge honor to be able to coach here at my alma mater and in such a great program after a historic coach like Coach Brewster."
With big shoes to fill, Cook worked hard this off-season to prepare his team for their challenging county and state tournaments by prioritizing strength training. Cook said, "[We're] trying to change the [program's] culture and get into the weight room to become the bigger, stronger, faster versions of ourselves so we're able to compete."
On the golf course, Varsity Co-Coaches Suzanne LaForge and Jayne Summers started as volunteer assistants, but were ready to take over the program when the position opened.
While COVID-19 affected the interest levels for girls golf these past two seasons, the program has seen a revival. Summers said, "Coming out of two years where we had limitations on our matches, we want to get the girls excited about the season."
Both coaches consider it a priority to capitalize on this interest and expand the program. LaForge said, "[Their] main goal prior to the season was to expand the interest in the team and work on recruiting in the offseason."
Having laid the groundwork, the coaches are now working on assessing their team's skills and knowledge and according to Summers, they are "looking forward to watching the development of all the talent on the team."
Leave a Comment