Class of 2020 honors their peers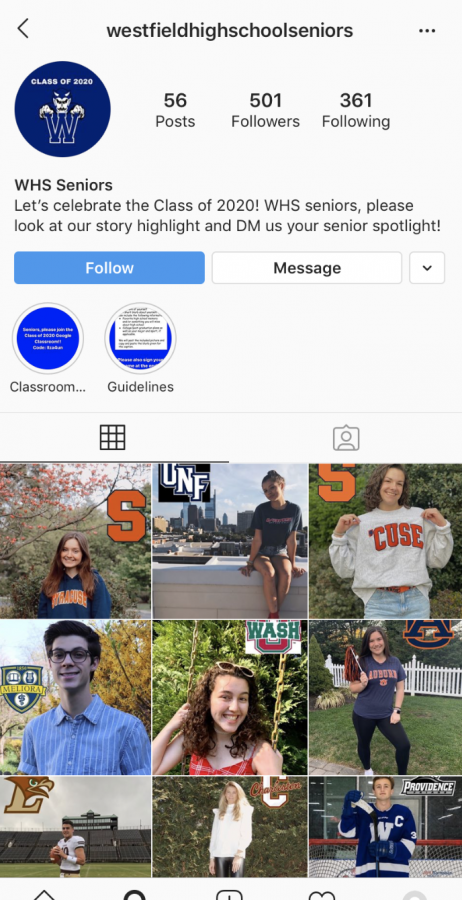 As the rest of the school year remains uncertain, WHS seniors are banding together in hopes of staying connected and making their final year memorable. Although normal hallmarks of high school, such as prom and graduation, may be canceled, seniors continue to honor each other's achievements.
The senior class council was tasked by its advisers, Special Education Teachers Jenna Cohen and Krista Stefanski, to come up with a way to commemorate the class of 2020 because they have been unable to do so at school.
Senior Class President Alexis Hammer recently created an Instagram account, @westfieldhighschoolseniors, for students to talk about their favorite memories, what they will miss about WHS and their post-high school plans. Hammer explained that students "create their own bio, so people [are] at the liberty to say whatever they want to say." Class council members post the profiles a few times a day.
"It's important to highlight the good times and memories that we have and things that we enjoyed about high school because we don't really know if we're going to be going back," said Hammer. "Everything's pretty uncertain at this point."
The account was created not only to connect students, but also to bring parents, teachers and the entire WHS community together to celebrate the senior class. "Maybe it'll bring some light to the situation that we have right now," said Hammer.
The WHS senior Instagram has brought peace to many students who feel as though their year has been taken from them. "I think [it] is a nice way to connect with our fellow classmates in a time when we unfortunately can't," said senior Tara Sullivan.
Some students have taken it upon themselves to unite the community even further. Senior Sophia Aparicio decided to make her senior project a photo collage that features the entire grade.
 "I decided I wanted to go around town and take pictures of any seniors who were willing to participate. All I asked was for everyone to wear college clothes for the school they will be attending," Aparicio said. "I will be taking all of the seniors' pictures and putting [them] on a large canvas and then will be donating it to the school."
Aparicio feels that by doing this, seniors will all be able to leave their mark on WHS, regardless of the current situation.
Senior Olivia Roth has a similar goal for her senior project, which is a time capsule. "I find myself constantly wondering what I will remember about coronavirus in the future," Roth said. "I thought it would be a cool idea to bury the capsule and open it in ten years and see and read all the things going on with us now as a community."
Roth has invited all seniors to contribute letters, pictures and objects to the project, and it will be buried in the back field at WHS.
These are just a few examples of how people are coming together and celebrating the seniors, despite recent circumstances, and many people have come up with alternate ways to make sure everyone's senior year is special.  Even if these students do not get to finish high school as they traditionally would have, the WHS community is making sure it is still memorable.